Larry Pranks Continue
This week, Larry was on FIRE!
He hid the teacher-chairs, AND, he switched all the South room tables with the North! Thank you all for the cardboard donations! Next week will be putting our geometric knowledge to good use as we construct our Leprechaun Traps!
This Week in Theme
We traveled southeast to the Gulf Coast! We learned about the special areas where freshwater from rivers mingle with the salty waters of the gulf, estuaries. These areas provide nurseries for many species of animals including red drum fish and blue crabs.
In a demonstration of the density of salt water, we dyed our ocean water blue and our fresh water yellow…
Through a maneuver (with miraculously minimal spillage!) we were able to show that when placed on top of fresh water, denser salt water mixed thoroughly with freshwater, creating green water. However, when we placed fresh water atop of saltwater, the two water bodies did not mix as completely, and due to the density of the salt water, the fresh water mostly stayed on top. 
We learned that in estuaries, the balance of fresh to salt water is extremely important, and it is often the case that during an influx of freshwater from rivers, species will move to lower, more salinated parts of the water.
Then we got to work creating our Gulf Coast! We painted the Gulf of Mexico. Added salt to it…
We painted rivers leading into the Gulf…
We created the seven major barrier islands – from scratch. 
And painted them sandy…
Next, we learned about the great importance of seagrass. Not only does it protect shorelines & clean water, it provides a habitat & food for many creatures AND it helps reduce the amount of carbon in the atmosphere – 35x as fast as a tropical forest!
When it came time to add fauna, we first learned about the many animals that live on the Gulf Coast. We met some very typical species such as gulls, and some who need to be protected to increase their chances of species survival, such as whooping cranes and Kemp's ridley sea turtles.
We learned how, by drawing basic shapes, to draw many of these animals.
Then we broke out the acrylic paint.
Alphas knew that the coast and coastal plains had fresh water which attracted wildlife – which attracted humans! In fact, there are more clovis points found in one part of the Texas coast than in any other part of Texas.
It was a great mystery to archeologists because beachcombers would find these 12,000 year old dart points lying on the beaches and they could not find any burned rock middens or any kind of encampments nearby.Some archeologists now believe that due to the Ice Age, and the water being locked up in ice all over the land, the oceans were much lower which caused the shoreline to lie farther out into what is now the Gulf of Mexico. They believe whatever camps and artifacts those ancient people left behind was flooded by the melted water and now their objects are washed ashore by waves.
While we don't know exactly how those ancient people lived 12,000 years ago, we do know how they lived over 500 years ago, thanks to Cabeza de Vaca. Alphas learned that his shipwrecked men were the first Europeans to step foot on Texas soil. Cabeza de Vaca spent many years traveling throughout Texas and recorded how the original inhabitants lived and prospered. Cabeza de Vaca may have been an important person on a big European ship but he didn't know the first thing about surviving in the wilderness of Texas! The Karankawa Indians taught him how to find roots and prickly pear "tuna" to eat, and they taught him how to weave mats, which he traded with other native people during his journey through Texas.
Alphas did some weaving too with their table teams!
This Week in Math
Ms. Kim's Group
This week we talked about what makes a cone a cone.
We saw that it had similarities to a circle as well as a triangle.
We also practiced our 5-addition Math Facts!
Ms. Andrea's Group
"I feel like my brain just did a major workout." – Favorite Alpha Quote of the Week
We exercised our math brains like crazy this week! From using doubles facts to perform subtraction tasks, to searching the room for picture cards and writing/solving corresponding subtraction number sentences – we worked hard!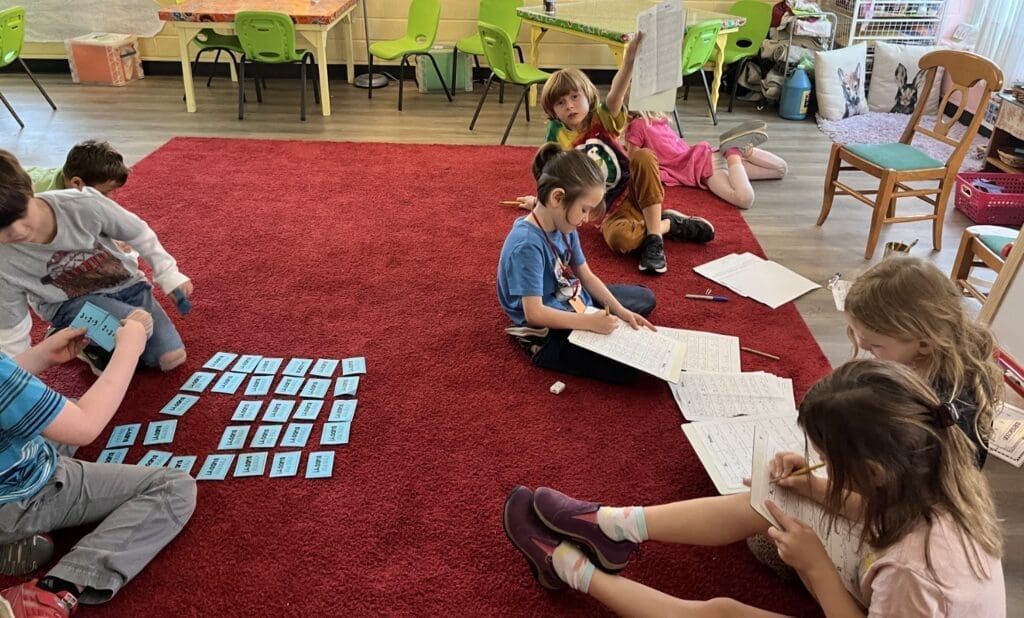 We spent the last portion of each class period constructing our 3D creatures in teams! 
Altogether on Thursday
Alphas did Math in their table teams! The second years helped the first years with a grouping-by tens dice game. 
We also worked as a team to solve a fact fluency challenge- I am happy to report all students made it safely through the maze!
This Week in Language Arts
Ms. Andrea's Group
This week we added adjectives to our "parts of speech" repertoire. We came up with a list of words to describe ourselves and got to know each other EVEN better. Our word families this week were -ed and -et and our sight words were "are" and "for." We did a mini scissor skills bootcamp to get additional practice in and fine tune our fine motor skills.
Due to staying home with a sick kiddo on Thursday we did not get a chance to write poetry about our treasures so we'll tackle that next week – there's still time to bring in a treasure if you haven't yet!
Ms. Kim's Group
We practiced spelling "er" controlled words.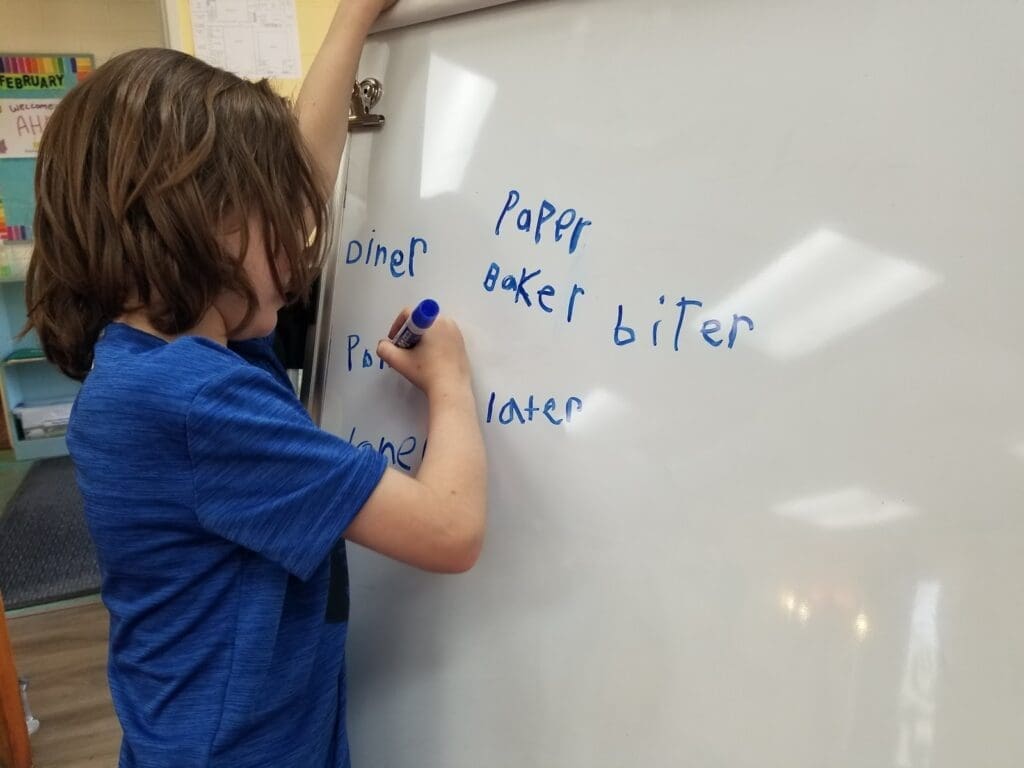 We wrote "recipe poems."
…and, many of us read with Ms. Kim!
Altogether on Thursday
Alphas heard a Karankawa story about "How the Possum Lost the Hair on his Tail," then we drew pictures of possums and/or illustrated a comic book of the story. We worked independently or with a table of friends.
Monday Lab
This week we gave our mammoth tusks some shape by wrapping them in wire…
We planted a garden…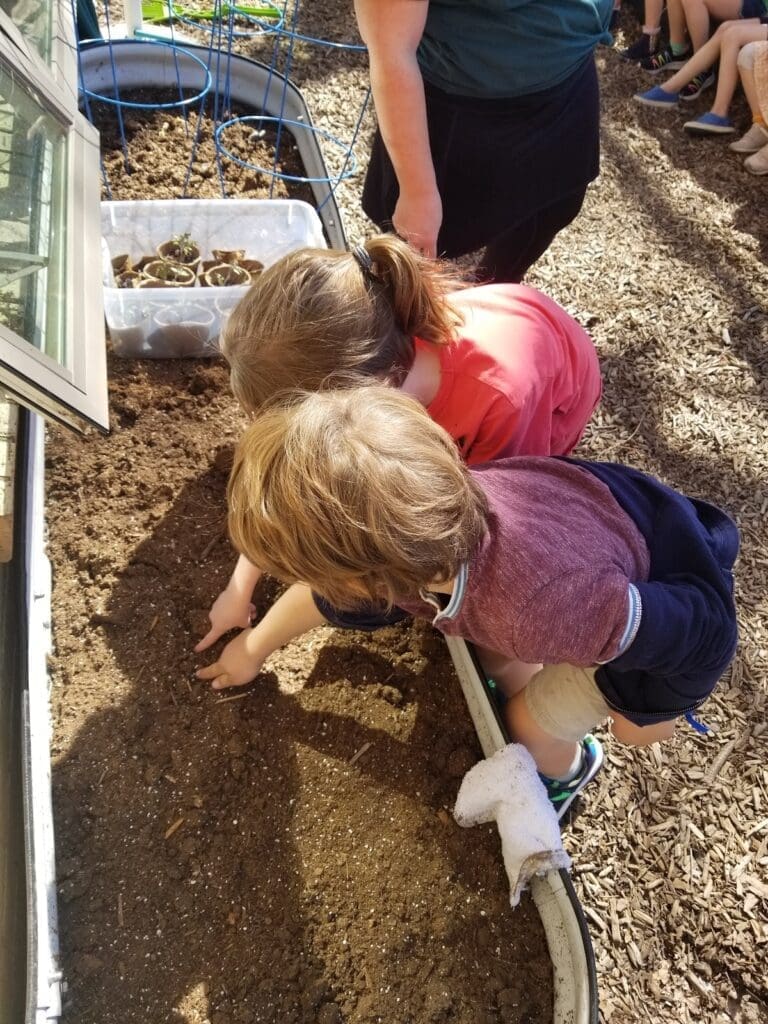 We made "perspective paintings" out of watercolors…
We worked on math and language arts stuff…
We made a 3 Sisters cornbread in honor of the first farmers in Texas: the Caddo Nation of East Texas…
And we ate it.